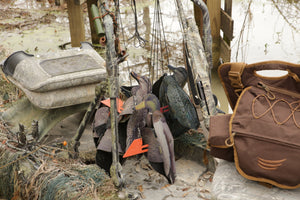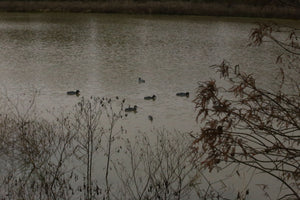 Revolutionizing Waterfowl Hunting Decoys
Fold Up Decoy is a leading innovator in the waterfowl hunting decoy industry, offering portable, versatile, and durable decoys for waterfowl hunting enthusiasts. Our unique folding design and realistic appearance make them an essential addition to any hunter's gear.
Key Benefits of Fold Up Decoys
Portable and versatile
Durable construction with weather-resistant neoprene
Ingenious folding design for easy setup and takedown
Realistic shapes and colors to attract diverse waterfowl species
Suitable for all skill levels
Enhance hunting success with lifelike appearance and user-friendly design
Transform from flat to full body decoys in 3 easy steps
Fold Over first panel
Fold in second panel
Slide keel into place
Full Body Decoy!
Enhance Your Hunt
Portable: Easily carry, transport, and store flat decoys, converting them to 3D when needed.
Durable: Made from high-quality neoprene, ensuring lasting use and resistance to damage.
Versatile: Ideal for both land and water-based hunting scenarios.
Robust and Shot Resistant
Crafted from neoprene, Fold Up Decoys boast exceptional buoyancy and durability, making them perfect for waterfowl hunting.


The lightweight material ensures the decoy's resilience, maintaining usability even after enduring a few shots.
Portable and Versatile
Effortlessly carry and store large decoys, such as goose or swan decoys, with Fold Up Decoys' innovative design.


Utilize the decoys in various environments, including both water and field settings.


Easily transport up to 12 decoys in one hand using the included FUDslinger.
Bird Vision Certified
FUDs are made from Birdvision UV decoy paints. The certified UV paint mimics and matches the feathers of real birds which makes the perfect decoy
Magnum Sized Decoys
Fold Up Decoys have been designed to a specific formula that only produces magnum size decoys.
All FUDs are a minimum of 10% larger than real life and this magnum ratio has been maintained across the entire FUD range.
Multi Posture
Fold Up Decoys are the first in class to create multiposture capabilities.

These rivets act as a pivoting point for the head, keel and for some specials, the tail pane
Chaining
Chaining is the process of joining decoys into a line similar to that used with layout boats. FUDs make chaining a much easier task with each decoy having rigging that is stored inside, having anchors that are flat, and pedestals that will easily accept the anchor of the next decoy.
Try Our Decoys Risk Free!
If you are unsatisfied with your product for any reason, return it within 30 days for a full refund!
Or dip your toes and try a sample decoy.
Happy Customer Testimonials